7/12/07
-The Ampere/Funeral Diner split etched 9" should be out in two weeks and is up for pre-order now. The limited vinyl went super fast, thanks to all who ordered!
-Daniel Striped Tiger white vinyl still available. D.S.T. Summer U.S. Tour!
-Looking for other Ampere shirts and/or records? Ampere is selling a few over here.
-Looking for the Ampere/Ringers split 6"? Hit up No Idea!
5/31/07
-Orchid - Totality has been re-pressed in a digipak with some new artwork/flyers, etc. Looks nice!
-Postage increases have caused me to raise prices, which I don't feel good about, but this label is already a money losing operation, and I can't eat any more costs. Sorry, hope you understand!
-Last and probably least, feel free to befriend Clean Plate on Myspace.
What's Hot: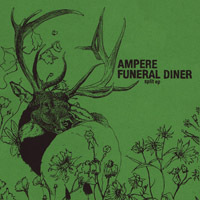 Ampere/Funeral Diner, Split Etched 9"
Two new songs by Ampere and one by Funeral Diner featuring unbelievable etchings by the talented Mark McCoy. This one has to be seen and heard to be believed! Ampere's tracks are intense and crazed as always, while Funeral Diner delivers the goods in an epic masterpiece. One-time only pressing!
1000 pressed: 800 Black Vinyl, 200 Dark Green.
Split release with Electric Human Project.
$7.50 US ppd, $9.00 Can/Mex, $13.50 World.
Ampere/Daitro, split 7" Picture Disc
Two new songs by Ampere and one by Daitro, featuring artwork by Nate Powell, this is a hard-hitting international team-up!
1500 pressed: 1100 Black and White, 400 Black and Blue.
Split release with purepainsugar.
$7.00 US ppd, $8.50 Can/Mex, $10.00 World.
Euro-punx are probably better of saving money and ordering from Purepainsugar!

Daniel Striped Tiger - Capital Cities, LP/CD MP3
Massachusetts' Daniel Striped Tiger serves up a stirring second LP. Once again challenging themselves and listeners alike with well crafted and passionate songs. On this release D.S.T. comes more into their own sound with refined song writing and a powerful display of unbridled fury. Capital Cities is set on a course for destruction and about to explode. Get the fuck into it!
600 pressed: 400 Black, 200 White.
$11.50 US ppd, $13.50 Can/Mex, $19.50 World.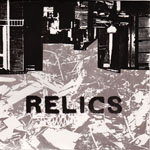 Relics - Demo, 7" MP3
Relics is an unrelenting hardcore powerhouse of whirling melody and unbridled heaviness, featuring members of Wasteland and Ampere. Originally released as a cassette, they got tired of dubbing, so for their first tour (Jan '07) it has been released on vinyl. An exquisite and unique package; hand printed, cut, numbered, and ultra-limited! First pressing is out of print! My copies of the second press are gone!
1st press: 100 Green Swirl, 150 Black, 2nd press: 150 Clear
Try the band directly or Ebullition.

Das Oath/Ampere, Split CD
Originally released as a tour only LP that quickly sold out, this is a limited pressing of 500 hand-numbered CDs. Four unreleased tracks from Das Oath and five from Ampere, a devastating record in a mystery bootleg package. This is your last chance to own any copy of this record!
$10.50 US ppd, $12.50 Can/Mex, $16.50 World.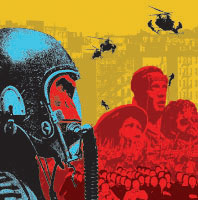 Please Inform The Captain This Is A Hijack -
Defeat Or Humiliate The United States Of America, LP MP3
After years of legal struggle, the much rumored final vision of PICTIH's 2nd LP comes to light. 14 new tracks of extremely well-crafted political hardcore. One would be unfortunately hard-pressed to find another band with such unique and inspiring power. 1000 pressed: 200 Blue/Red, 800 Black
$11.50 US ppd, $13.50 Can/Mex, $19.50 World.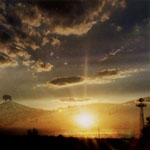 Death To Tyrants - Wake Up And Be, CD MP3
An incredible body of work from the New Hampshire master musicians. Eleven new songs span 40+ minutes of powerful dynamics and soaring melody. Few albums contain such moments of beauty and brutality. This is not to be missed!
$10.50 US ppd, $12.50 Can/Mex, $16.50 World.

Wasteland, 7" MP3
Crushing Western Mass Crust/Hardcore with a unique blend of melody and heaviness. They just knocked the east coast on its ass, this is a band to lookout for! 400 black, 100 red (100 in tour covers).
$4.50 US ppd, $5.50 Can/Mex, $6.50 World

Life At These Speeds, LP MP3
This was already one of my favorite records of the past few years, so when asked to help re-press it, it was a no-brainer. Urgent, dynamic, and emotional hardcore from this Portland, OR band. Split with Perpetual Motion Machine.
$8.50 US ppd, $9.50 Can/Mex, $16.50 World

Somewhere Between New And Classic:

Orchid - Totality, CD MP3
All non-album tracks combined on one CD, including one unreleased song from the 'Chaos Is Me' recording session. Now available in a nice digipak, 20 page booklet, and 24 remastered tracks.
$10 US ppd, $12 Can/Mex, $16 World.
Death To Tyrants 12" ep MP3
New Hampshire's Death To Tyrants stretch their legs and get comfortable on this 4 song, 20+ minute release. Fully realizing what their cd ep hinted at, this is engaging instrumental music for those ready to rock.
$7.50 US ppd, $9.50 Can/Mex, $13.50 World.
800 on red vinyl. 200 on black vinyl.
Recently Retired: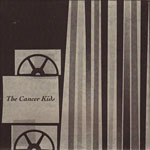 The Cancer Kids - Boston Cream, 7" MP3
From obscurity this Western Mass band has risen to a near legendary cult status with the 4-years-too-late release of the grind-punk masterpiece, "The Possible Dream" on Youth Attack. Now this singular track from the vault of the LP recording sessions has been unearthed and released, to celebrate their first shows in 5 years! Limited to 150, with screened and hand numbered vinyl.
no more...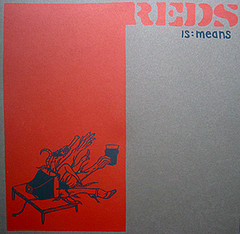 Reds - Is:Means, LP
A post-modern sonic collage of hardcore that delivers the passion of D.C. classics Rites of Spring, with the aggressive fury of more recent chaotic hardcore. Frenzied, yet focused, this album delivers on many levels.
Try Waking Records for copies!
Death To Tyrants/Ampere/Daniel Striped Tiger/Wasteland, Live 11"
Live at Dead Air
A concept in friendship and community = one magic night. January 15th, 2006, captured on vinyl. Limited to 330 copies!
It's all gone.... You had your chance....

Ampere/Welcome The Plague Year, 5"
Two solid current bands of emotive hardcore. Ampere dishes out two tracks while W.T.P.Y. serves up one hot number. Hand printed in beautiful packaging. 1160 pressed, 500 clear, 500 blue. 160 green. Split release with Turnstile.
Contact Turnstile for continued availability.


Wolves/Sinaloa, split 7"
Two great bands from Massachusetts with influences from the past, ears for the future, and results unlike any other. Wolves final release is simmering with energy as always, while Sinaloa shows their diversity on two tracks of emotional punk, the way it should be.
All Gone...700 on black vinyl. 300 on pink vinyl.
Off Minor - The Heat Death Of The Universe, CD
MP3

Off Minor's first full-length is an amazing record of emotive hardcore.
past tense...
The Future Of Filthy Punk:
Baader Brains, LP (split with Waking Records)
Ampere/Funeral Diner, 9" (split with Electric Human Project)
Orchid - Totality, LP
????????